Top Water Damage Restoration in Hounslow
We've been offering our water damage restoration service in Hounslow for many years and have become the local favourite, so give us a call when you find yourself underwater! We've got teams of engineers, builders and cleaners waiting to ply their trade in your home or business premises and guarantee an immediate response. We use all the latest technology and equipment to restore your home to its former glory. Containment, removal, dehumidification, sanitising, deodorising and cleaning are the bywords of our trade. Only prompt action will keep the damage to a minimum, which is why we keep our phone lines open 365 days a year. Flood damage repair solutions used within the first 18 hours are the most effective way to protect your property and possessions from the damaging effects of an ingress of water, whether it's your business or your home.
Enjoy Speedy Flood Damage Repair in Hounslow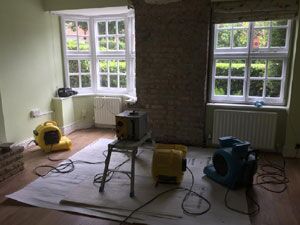 You're probably wondering what benefits you'll enjoy if you choose us for your flood damage repair, so let's fill you in on a few of them:
Rapid response times and lines of communication are open 24/7
Friendly customer support is on-hand to answer your questions, discuss your options and give a no-obligation quote
Experienced professionals delivering the highest possible standards
We've access to the latest equipment and products, giving painless results
Effective communicators and go-betweens when dealing with insurance providers
We cover all areas of London and the Southeast of England
Your needs, concerns and individual requirements stand firmly at the top of our priorities
If you want to read what our customers say about us take a look at our reviews page
Mould Removal is Offered as Part of Your Choice of Overall Package
We've got a number of different options when you're faced with an unwanted influx of water, whether you own an office, retail location or residential home. Mould removal is just one of our specialities. Others on offer include:
Structural drying – we isolate and remove excess water using a combination of techniques that include the use of thermal imaging technology
Dehumidification – we use industrial-strength dehumidifiers to speed up the natural drying process
Mold damage – wherever mould makes an appearance we'll eradicate it once and for all
Don't forget that some amazing discounts are available when you book more than one service.
Hounslow Rising Damp Solutions
Rising damp solutions and all of our other services are available in the following areas of Hounslow:
Bedfont
Brentford
Chiswick Homefields and Riverside
Cranford
Feltham North and West
Hanworth and Hanworth Park
Heston Central, East and West
Hounslow Central
Hounslow Heath
Hounslow South and West
Isleworth
Osterley and Spring Grove
Syon
Turnham Green
We also cover many other London boroughs, as well as South East England.
Dehumidifier Hire Quickly Arranged by Phone or Online
We understand that flooding can cause the best of us to be in a bit of a panic so we've made it simple and painless to organise your dehumidifier hire or flood damage repair service in Hounslow. Pick up the phone and dial 020 3404 5116 whatever time of the day or night it is. Speak to one of our customer support team and they'll put your mind at ease and lift the burden of repair and restoration from your shoulders. On hand to answer your questions 24/7, we can also inform you of our latest offers, talk about prices and give you a no-obligation quote. On the other hand, you might want to make use of our chat option or fill your details in on our booking form. However, you communicate we'll be ready and waiting to come to your aid and get you back to normal again, as quickly as possible.
We were having a problem with our humidifier and water in our basement - our furnace is installed in a very tiny spot! The guy that installed our furnace said we needed a plumber to come in and put another floor drain in so the furnace and humidifier could properly drain. I've contacted a few companies but none of them sound like they understand my problem. I'm happy your guys did. Problem is solved now and we never have to worry about water in the basement again.
The dispatch guy was genuinely helpful about my emergency problem. The shut off valve was leaking and it flooded my entire floor. They've send two gentlemens to fix those valves a few hours after I called and it was Saturday. I'm really overjoyed about the fast response. Would recommend this company.
We had major flooding due to a burst pipe and the carpets and hard wood floors got damaged. Thankfully the insurance claim paid off and Thames Flood Restoration took care of all the water damage perfectly!
Thames Flood Restoration dealt with all the water damage and helped me work out the details with the claims to the home insurance company. I'm glad I chose them. Would recommend that company.
I had problems dealing with the insurance company, after my basement got flooded from a broken pipe. Thanks to Thames Flood Restoration, my problems are solved now. I'm really happy with the services they provided. Great company!
When I first entered my home after the flood, I was shocked by the amount of water in it. I was most scared of the water damaging the few items that were not ruined yet. I am happy I booked Thames Flood Restoration to take care of it. The team worked quickly and they saved my home. Thank you!
I have always thought a flood is the worst thing that can happen to me. Surprisingly, my home was completely restored in less than a month. I am so glad I left you to deal with the disaster I lived through. I cannot even imagine to take care of it all by myself! Now my home is completely dry.
Watching all my furniture and carpets in water was horrible. I chose Thames Flood Restoration and I was impressed! They did the job beyond my expectations! My home is now in its best condition. Thank you!
My hardwood floor was just installed when my house flooded. I was devastated by the thought I will have to replace it with a new one. My brother told me about Thames Flood Restoration and I decided to try them out. At the end, replacing the hardwood floor was not necessary at all! That was exactly what I needed! Thank you so much!
After the flood I needed someone to dry out the floors of the first floor of my home and remove the unpleasant smell of the house. A friend of mine recommended Thames Flood Restoration and I decided to book them. This was the best decision I made during the last few months! My home is dry and I've forgotten what a bad odor is. I definitely recommend them.
After the flood I went trough, my home was in a really bad condition. You could feel the odor right after you enter, the floor was soaked and there was mold on the walls. I found your service and I am so grateful you took care of my home! I don't regret I booked you and I will recommend your service to all my friends.